2023 season is here!
We are open as follows:
6.4-14.5 thursday – sunday  at 11-18
and also monday 10.4 at 11 -18 and monday 1.5 at 11-18
17.5-27.8 monday – saturday at 11-20 and sunday at 11-18
31.8-30.9 thursday to sunday at 11-18
Welcome!
Look us up, come in and say hi, stay for a pizza and a beer and enjoy the endless Finnish summer nights in a truly unique setting. To find us, follow the signs to Gustavssvärd/Kustaanmiekka and/or Restaurant Walhalla.
A map over Suomenlinna is located here. You'll find Nikolai at number 45 on the map. The ferry timetable is available here. Our restaurant is only 70 meters from Kuninkaanportti. Read more about Suomenlinna here. The best guided tours are available here.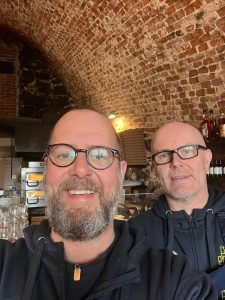 Tony and Stafu wishes you welcome. Don't forget to follow us on Instagram.